Arlington, TX Local Roof Repair & Roof Replacement Contractor
Trustworthy Arlington Roofing Contractors Ready To Help
If you are a homeowner in the Arlington area, you probably already know that storm damage and other roofing issues can sometimes be inevitable. Due to Arlington's location in Tornado Alley, severe weather can be all too common and can cause a host of problems for your home's exterior.
Dynamic Roofing is your reliable roofing company with over 10 years of experience providing roof repair and roof replacement solutions in Arlington and surrounding areas in Texas. We pride ourselves on being the roofer you can trust, which is why all of our employees undergo background checks before being hired and are factory-trained in the best roofing techniques. We also hold an A+ rating with the Better Business Bureau and are certified by GAF Materials Corporation, North America's largest roofing manufacturer.
Here at Dynamic Roofing, we understand that unexpected storm damage can be a major hassle unless handled properly. That's why we specialize in both general roof repair and storm damage repair, and we are here for you with emergency roof repair services when you need us! Our roof repair services include:
Ridge vents and ventilation
Wood rot repair
Roof leak repair
Professional roof inspection
We are fully insured with liability coverage for your protection, and we will complete any necessary roof repairs with speed, efficiency, and thoroughness. Don't hesitate to contact us to schedule your comprehensive roof inspection, and we will advise you on your best options for roof repair or roof replacement!
Request A Free, No Obligation Roof Inspection
How Can You Tell if Your Roof is Damaged and You Need to Hire an Arlington Roofing Contractor?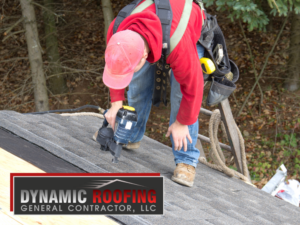 Your roof is an essential component of your home, so it's important to know when it's time to call a professional for repairs. To determine if your roof is damaged, you should look for signs such as missing or cracked shingles, discoloration, curling or buckling, and any visible signs of water damage, such as stains or leaks. If you have an attic, inspect it for any signs of water damage, including damp spots or water rings.
Additionally, if you notice any light coming in through your roof, it's a good indicator that you need to repair your roof. Finally, if your roof is over 20 years old, it's a good idea to have an Arlington roofing contractor inspect it to ensure that it's still in good condition. If you suspect your roof is damaged, it's important to an Arlington roofing contractor  to diagnose and repair the issue.
What Happens if My Shingles Are Cracked, Curled, Broken or Missing?
If your shingles are cracked, curled, broken, or missing, it means that your roof is compromised and needs immediate attention. These issues can lead to water damage and leaks, which can cause further problems inside your home, such as mold growth, rot, and structural damage.
In addition, shingle damage can affect the appearance of your home, reducing its curb appeal and resale value. It's important to address these issues as soon as possible to prevent further damage and to protect your home's value.
How Can I Tell if Water is Getting Into My Home Through My Roof?
To determine if water is entering your home through your roof, look for the following signs: water spots on the ceiling or walls, mold or mildew in the attic or along the ceiling, and damp or sagging areas on the roof deck. You can also inspect your roof for missing, damaged, or worn shingles or tiles, as well as for any cracks or gaps in the flashing around chimneys, vents, or skylights. If you suspect water is getting into your home through your roof, it's important to have it inspected by a professional Arlington roofing contractor as soon as possible to prevent further damage.
Why Should I Replace or Repair My Roof After 20 Years?
The average lifespan of a roof depends on several factors, including the type of material, quality of installation, and weather conditions. However, after 20 years of Arlington's rough weather conditions, most roofs will start to show signs of wear and tear, such as missing or broken shingles, curled or cracked tiles, or leaks. Regular roof maintenance, such as clearing debris from gutters and repairing damaged shingles, can extend the life of your roof. However, if your roof is significantly damaged, it may be more cost-effective to have it replaced.
How Can I Tell if My Gutters Are Working Properly?
To determine if your gutters are working properly, you should inspect them regularly for signs of damage, clogs, or sagging. Check for any cracks, holes, or rust, and make sure the gutters are securely attached to the roof and the downspouts are directing water away from the foundation. If you notice any of these problems, or if water is overflowing from your gutters, it's a sign that they need to be cleaned or repaired.
High-Quality Residential and Commercial Roof Replacement in Arlington, TX
If your roof has extensive damage that is beyond repair or if you're simply looking to upgrade your property with a beautiful and durable replacement roof, Dynamic Roofing General Contractor LLC can help! We offer weatherproof, aesthetically pleasing roof installation styles and materials for both residential and commercial properties. Not only will a roof replacement significantly boost your property's curb appeal and market value, it will also add years to the structure's stability through superior protection from the outside elements. Choose from proven roofing styles such as:
Wood shingles/shakes
Composite roofing
And more!
We also provide commercial roofing options such as asphalt shingle roofing, modified bitumen, built-up roofing, EPDM/rubber roofing, PVC, TPO, and more. Our expert roofing technicians will complete a gorgeous roof replacement that will keep your home or commercial property safe and dry through any weather.
Schedule a Free Roof Inspection with Dynamic Roofing
Dynamic Roofing General Contractor LLC is your best choice for roof repair and maintenance, storm damage repair, and complete roof installation in Arlington, TX, and areas nearby. Dynamic Roofing is a member of a variety of industry organizations that greatly support the work that we do. We are a part of the Roofing Contractors Association of Texas (RCAT) and the North Texas Roofing Contractors Association (NTRCA). We have an A+ rating with the BBB, and we are a GAF certified dealer. Without the help of these organizations, we would not be able to provide the outstanding service our customers have come to expect!  Contact us today for a free roof inspection and cost estimate for a roof repair or replacement!
Request A Free, No Obligation Roof Inspection