Mesquite, TX Expert Roofing Contractor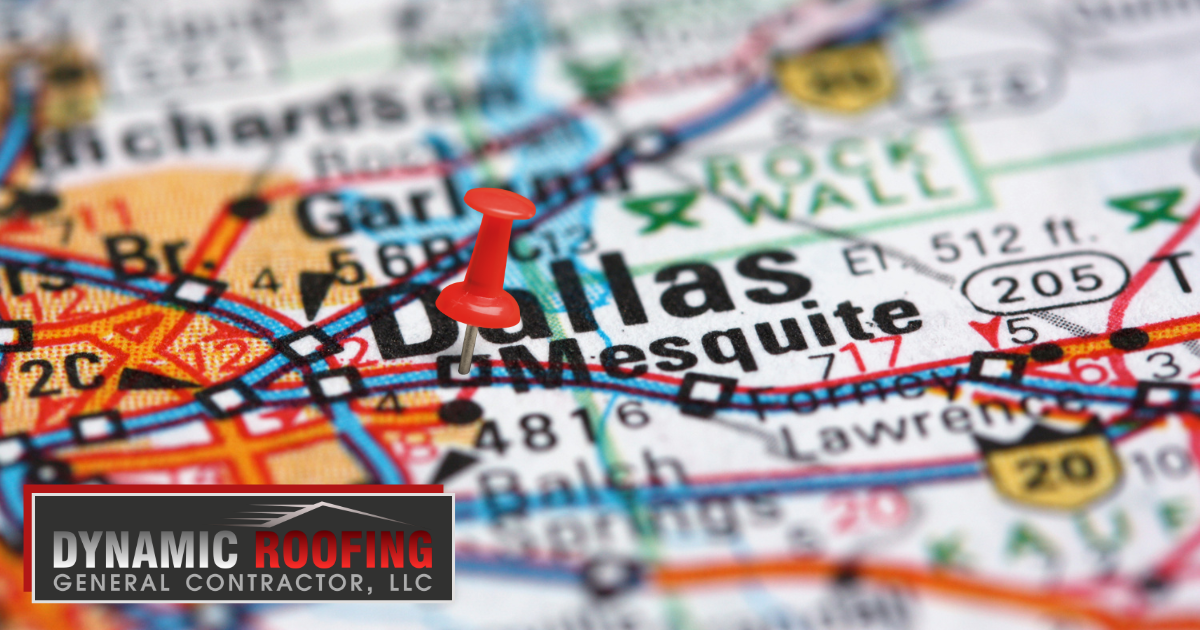 A Top-Quality Roofing Company in Mesquite, Texas
Mesquite and nearby areas in Texas are part of a humid subtropical region, which means that summers are hot with high levels of humidity and winters are usually rainy. As homeowners know, this kind of moisture and humidity can cause problems for your roof as it works to keep you safe and dry.
That's when we come in! Dynamic Roofing is a local roofing contractor with over 10 years of experience in the Mesquite area, and we specialize in both residential and commercial roofing services. From emergency roof repairs after storm damage to minor roof leak repair and total roof replacement, we do it all.
With years of experience and education in the latest energy efficient roofing technologies, Dynamic Roofing is the Mesquite roofing company you want for your home. Our roofers are highly certified and trained. Ensuring that homes and commercial properties are safe and secure is always our topmost priority. That's why we only use high-quality products in the roofing process. As a GAF Master Elite roofer, we have access to some of the best roofing materials in the industry.
Do You Need a New Roof or Roof Repairs?
Your roof is more than just a protective barrier between you and the elements. It's a significant investment in your home and plays a crucial role in maintaining its value. But like everything else, roofs have a lifespan, and there comes a time when repairs or even a full replacement become necessary. But how do you know when that time has come? The following sections explain.
Request A Free, No Obligation Roof Inspection
How to Tell You Need Roof Repairs or Roof Replacement
Here are a few signs you may need roof repairs or replacement:
Age of your roof
Missing or damaged shingles
Sagging roof deck
Leaks and water damage
Granules in the gutters
Higher energy bills
Here's a closer look at each.
Age of Your Roof
Most roofs, especially those made of asphalt shingles, have a lifespan of about 20 to 25 years. If your roof is pushing this age or older, it might be time to consider a replacement. Even if it looks okay from the ground, there could be underlying issues that aren't visible to the untrained eye.
Missing or Damaged Shingles
If you notice that some shingles are missing, cracked, or damaged, it's a clear sign that repairs are in order. Shingles are your roof's first line of defense against the elements, and any compromise in their integrity can lead to bigger problems down the line.
Sagging Roof Deck
A sagging roof deck is a serious issue. If you notice a dip or sag in the structure of your roof, it's crucial to call in professionals immediately. This could be a sign of structural damage, and fixing it isn't something you should put off.
Leaks and Water Damage
Water stains on your ceiling or walls? It's likely your roof is leaking. Even small leaks can lead to significant water damage, mold growth and structural issues if left unaddressed. Don't wait for the problem to get worse. Call us for help as soon as you spot signs of a leak.
Granules in the Gutters
If you start to notice granules from your shingles in your gutters, it's a sign that they're nearing the end of their lifespan. These granules protect the shingles from the sun, and without them, the shingles can deteriorate faster.
Higher Energy Bills
A sudden spike in your energy bills might be a sign that your roof isn't insulating your home as well as it should. If your attic isn't staying cool in the summer or warm in the winter, it might be time to look into roof repairs or replacement.
Request A Free, No Obligation Roof Inspection
FAQ About Roof Repairs and Replacement
Here are some frequently asked questions about roof repairs and replacement. If you don't see the answers you're looking for here, please call our office. We're here to help.
How Often Should I Inspect My Roof?
It's a good idea to do a visual inspection from the ground of your roof at least twice a year, preferably in the spring and fall. Then once a year you should have a professional roof inspector climb on your roof for a more detailed inspection once a year and after every major storm. This can help you catch potential issues before they become major problems.
How Long Does a Roof Replacement Take?
How long your roof replacement takes depends how big your roof is, what materials you use and a few other factors. The best way to find out how long it'll take at your home or business is to give us a call – we'll tell you exactly what to expect.
Can I Repair My Roof Myself?
While some minor repairs might be doable for handy homeowners, it's always best to consult with professionals. We have the expertise, experience and equipment to do the job safely, efficiently and quickly. We've seen time and time again homeowners trying to save a few bucks by repairing their roof themselves only to need a full roof replacement due to leaks caused by improper repairs.
What's the Best Material for My Roof?
The best material for your roof depends on your budget, aesthetic preferences, and the climate in your area. Asphalt shingles are popular due to their affordability and durability, but there are many options available.
How Do I Know If I Need a New Roof or Just Repairs?
If your roof is older than 20 years, it might be time for a replacement. However, if it's younger and you're experiencing issues, repairs might suffice. Consulting with a roofing professional can give you a clearer picture.
Your roof is an integral part of your home, and it's essential to ensure it's in top shape. Whether you're facing minor issues or think it might be time for a full replacement, our team at Dynamic Roofing in Mesquite is here to guide you every step of the way. Remember, a well-maintained roof protects your home and may enhance your home's value.
Mesquite Roof Repair Services
Whether you're looking for commercial roofing services or residential products, allow us to lend a helping hand.
Dynamic Roofing offers extensive roof repair services along with professional roof inspections to assess the quality and condition of your roof. Our roof repair services include:
Here are a few signs you may need roof repairs or replacement:
Wood rot repair
Hail damage repair
Ridge vents and ventilation
Storm and wind damage repair
Roof leak repair
And more
If you live in Mesquite, you understand the importance of a protective, energy efficient roof system. Dynamic Roofing offers a variety of products and services to keep your home or commercial property in top-notch condition for years to come. We provide a wide variety of roof installation materials, such as:
Asphalt shingle roofing
Tile roofing
Metal roofing
Flat roofing
Energy efficient shingles
and more
Along with our residential replacement roof options, Mesquite commercial properties can enjoy a quick and seamless roofing experience as well. We offer commercial roof replacements such as modified bitumen, TPO roofing, EPDM/rubber roofing, and more. We pride ourselves on serving Mesquite businesses and residential properties with high quality, innovative, and lasting roofing materials.
Contact Us Today for a Free, No-Obligation Cost Estimate on Your Roofing Project
If you're ready to get started on your roof repair or roof installation project, don't hesitate to contact us today! We proudly serve Mesquite, Texas, and the nearby areas — and we offer free quotes on all of our services as well as free inspections.
Request A Free, No Obligation Roof Inspection