Irving, TX Roofing Contractors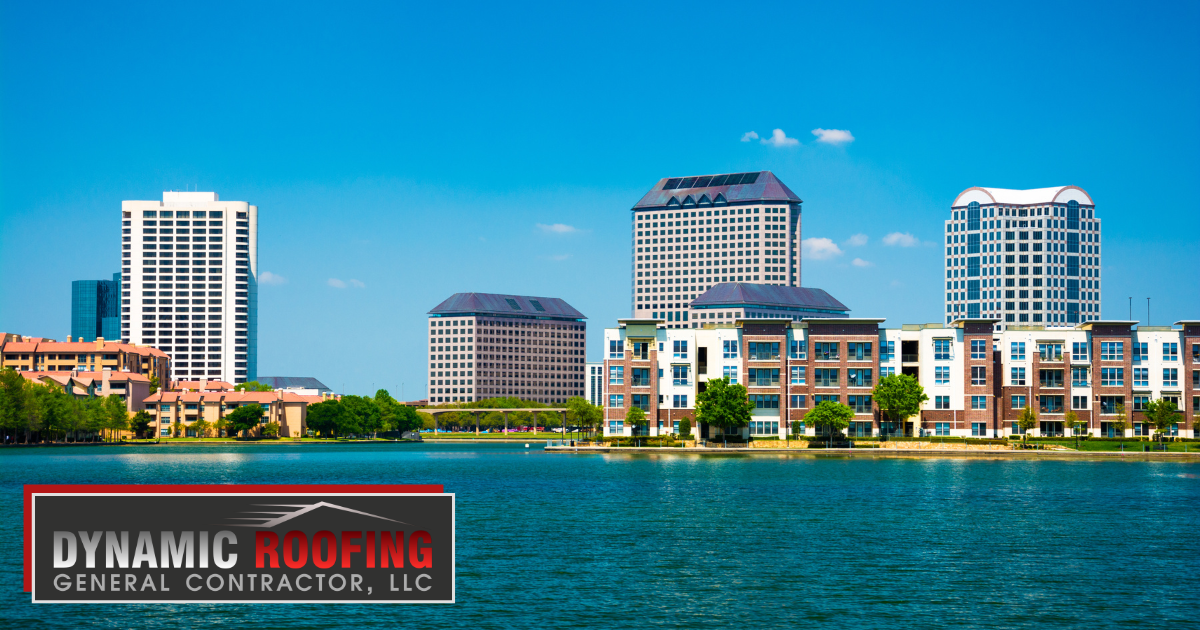 Roofing a home or office building requires a flawless combination of experience, training, and education. The roofing contractors at Dynamic Roofing are experts in the field. With years of experience, each of our roofing technicians offers specialized services in residential and commercial roofing services. As GAF Master Elite (certified) roofing contractors with a Better Business Bureau rating of A+, we pride ourselves on offering trusted storm damage repair services, high-quality roof replacements, and more.
Residential Storm Damage Repair and Roof Replacement in Irving
Irving residential roofing services are available from Dynamic Roofing. Our residential services include new roof installations, roof inspections, roof repairs, and more. Here at Dynamic Roofing, we understand that Irving, TX residents are constantly looking for high-quality roofing services to keep their homes safe without giving up days to weeks of their time. Dynamic Roofing is your leading roofing contractor, proven to be efficient and effective when providing top-notch roofing systems to Irving residents. Our roof repair and maintenance services include:
Hail damage repair
Emergency roof repair
Wood rot repair
Roof inspections
And more!
Request A Free, No Obligation Roof Inspection
Hail Damage Repair in Irving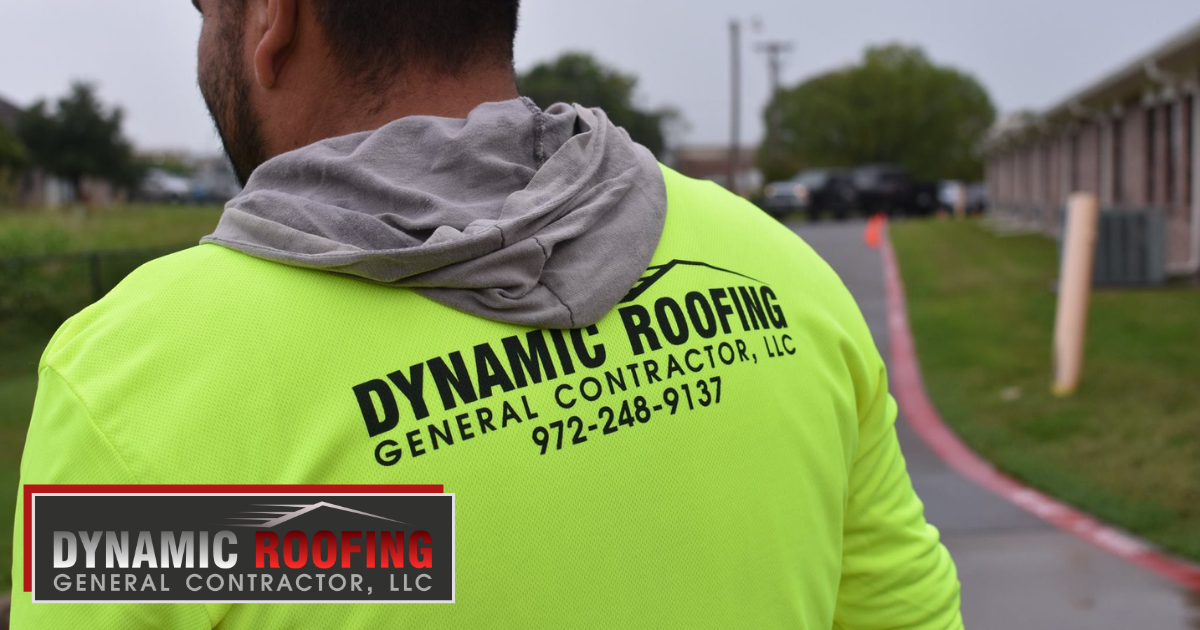 Texas gets more than its fair share of hail, which can really do a number on your roof. Many of our clients call us after a major hailstorm and ask us to come check things out and make hail damage repairs. Although many hailstorms do very little, if any, damage, in this in this part of Texas, it's common for huge pieces of hail to crack and break and break shingles or other roofing materials. Although you may not be able to see this type of damage from the ground, you should call us if you've been through a hailstorm that damaged your car, the siding on your home or anything else you can see without climbing on your roof.
Emergency Roof Repair
Our team specializes in emergency roof repair, whether a tree has fallen on your roof or you've been through a particularly rough storm. We can send someone out right away to evaluate the damage and make temporary fixes as you wait for official repairs. Call us immediately if you need emergency roof repair, or if you suspect that something has happened to your roof but aren't quite sure whether it's damaged.
Wood Rot Repair in Irving
Sometimes humidity, pests and other and other issues cause wood to rot in Irving and other areas in Texas. If you're dealing with wood rot, we may be able to help you. Often, our experienced roofing roofing contractors can replace damaged wood and even address the source so you don't have to deal with a similar problem in the future. For example, if humidity is becoming trapped in your attic as a result of poor ventilation, our professionals can fix the situation so it won't happen again.
Ridge Vents and Ventilation for Your Roof in Irving
Every roof needs proper ventilation to keep the home beneath it as efficient as possible when it comes to heating and cooling. Additionally, ventilation is important in preventing mold and biological growth. If your roof isn't properly ventilated, you can experience all kinds of issues that could even cost you more money than you need to spend. For example, poorly ventilated roofs typically have shorter lifespans than those that are vented properly; that's because heat gets trapped in the attic and essentially "cooks" the roofing materials.
Free Roof Inspections in Irving
We're happy to give our clients in Irving free roof inspections. In fact, we recommend that you have your roof inspected at least once a year, even if you don't think it's damaged or needs to be replaced. Get in touch with us to schedule your free roof inspection today. We can send a professional to your home or business at a time that's convenient for you.
How Do You Know if Your Irving Home Needs a New Roof?
Here's a quick run-down of the symptoms that may indicate you need a new roof on your Irving home:
Damaged or missing shingles
Missing shingle granules
Leaks
Here's how each impacts your roof.
Damaged or Missing Shingles
Your shingles are the only thing standing between your roofing materials and the elements, so if they're damaged or missing, they can't do their job. If you notice anything wrong with your shingles, call us and we'll inspect your roof for free.
Missing Shingle Granules
Shingle granules are the small, globe shaped spheres that help your roof shed water. If they're missing, your roof can't do its job. You can tell that your roof is losing granules if your shingles appear to have bald spots on them, or if you find the granules in your gutters, around the outside of your home's perimeter, or near your downspouts.
Leaks
Leagues are almost always a sign of roof damage, and they never get better with time. If your roof is leaking, or if you suspect that it is, give us a call immediately and we'll send a professional out to find and repair the source of the leak.
If you live in or around Irving, contact Dynamic Roofing and enjoy the peace of mind that comes with a safe and aesthetically appealing roof system! We offer roof replacement styles such as asphalt shingle, tiles, flat roofing, composite roofing, and many more.
We Are the Leading Commercial Roofing Company in Irving
In addition to our residential roofing services, commercial roofing is available for all companies in or around the Irving area. Regardless of whether you need new commercial roof installation, roof repair, re-roofing, or a roof inspection, Dynamic Roofing is eager to transform your Irving building!
With a variety of products and services, we offer the latest in roofing technology, the highest quality materials, and efficient services. Our commercial replacement roofs are available in styles such as:
Asphalt shingle roofing
Modified bitumen
PVC roofing
TPO roofing
EPDM/rubber roofing
And more
Commercial roofing from Dynamic Roofing includes re-roofs, new roof installations, and more. Upgrades to a commercial property often start with the roof, and the expert roofers at Dynamic Roofing will ensure that your new roof keeps your structure safe and inviting for years to come.
Let's Talk About Our Irving Roofing Services
For more information regarding the roofing products we use and the services we offer for Irving homes and commercial structures, contact Dynamic Roofing today! Schedule a consultation and relax, knowing that your Irving structure will stay reliable and weatherproof for the long-term.
[contact-form-7 id="4622″ title="Contact Us For A Free Estimate"]
Request A Free, No Obligation Roof Inspection