Professional Tile Roof Repair
Protect your home with a roof that will last a lifetime
If you're considering re-roofing or installing a new roof, tile is a cost-effective, energy-efficient option that can last a lifetime. Here at Dynamic Roofing General Contractor LLC, we offer a full range of roof tile styles and colors to match your home's architecture and give you the exact look you want. A major benefit of clay and concrete tile roofs are the federal tax credits and state rebates that are available. We can help you take advantage of these incentives to help make your investment more affordable.
If you're interested in tile roofing, we carry products from leading manufacturers and offer professional installation. We provide free roofing inspections in Texas, so call us at 1-855-242-9772 or click below to schedule your consultation today!
Why choose tile for your re-roof or new roof project?
Concrete and clay tiles are the second most commonly used roofing product and a popular choice among homeowners in Texas for roof replacement. With similar composition, both offer numerous benefits:
Versatility: Roof tiles are manufactured in a wide variety of colors and styles, making it easy to coordinate your roof with your home's exterior.
Long-term durability: Tile roofs have the lowest life cycle cost of any other roofing material, according to the Tile Roofing Institute. Tile roofs that were installed centuries ago are still standing.
Weather & fire resistance: Most clay and concrete tiles are Class A fire resistant, are designed and tested to meet 150 MPH wind speeds, and can resist damage from hailstones as large as 2-inches.
Energy cost savings: Natural air flow under roof tiles creates a heat transfer barrier that can help provide a cooler house in the summer and a warmer house in the winter. Based on independent testing performed by the Department of Energy, tiles can cut the transfer of heat by as much as 70 percent when compared to other roofing materials such as asphalt shingles.
Environmentally friendly: Tile roofs meet LEED and Energy Star requirements based on the life of the roofing material. Roofing tiles are not manufactured with chemical preservatives; waste from tile roofing jobs can be recycled; and the long life of a tile roof reduces the need for reroofing that can clog landfills.
Easy to maintain: Roof tiles are individually installed, making them much easier to repair.


Ludowici was established in Rome, Itlay in 1888 after becoming famous for producing an innovative & crafty clay roof tile.  After migrating to the United States, the Ludowici family business has now grown into a world leader of clay roof tile, terra cotta wall tiles, quarry tiles and decorative terra cotta finials.
Ludowici Spanish Tile Roofing
The Spanish Tile Line contains some of Ludowici's most popular roofing products. Also known as clay roofing, this product has the ability to enhance the design and protection of any home.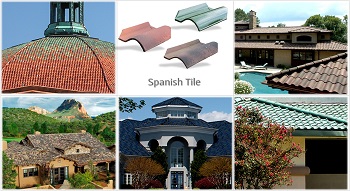 Benefits of Spanish tile roofing by Ludowici:
One-piece design gives the roof the rippled effect that Spanish roofing is known for
Available in a variety of colors to suit your home
Strong and durable protection

Eagle Roofing Products, a division of Burlingame Industries, is a California-based tile roofing manufacturer with over 25 years of experience. They provide customers with durable, attractive, and environmentally-friendly roofing products.
Eagle Tile Roofing
Tile roofing products by Eagle are an easy way to add timeless beauty to any style of building. These tiles are designed with all kinds of roofs in mind and are available in a wide variety of colors and profiles.
Benefits of Eagle Tile Roofing:
Durable alternative to other roofing materials
High fire, wind, and freeze-thaw protection
Affordable
Environmentally friendly
Maintains property value over time
MCA has nearly a century of experience producing high-quality clay tile roofing for residential and commercial purposes. Committed to research and development, they constantly innovate to ensure their customers get the very best in clay tile roofing.
MCA Clay Tile Roofing
The clay tile roofs created by MCA offer unparalleled beauty and strength for an affordable price. These tiles will transform any home or business into a property with high curb appeal.
Benefits of MCA Clay Tile:
Flexible and durable
Fire and wind resistant
Available in many colors and styles
Competitively priced
Meets Energy Star and Cool Roof specifications

Boral Roofing, a subsidiary of Boral USA, operates 12 clay and concrete tile manufacturing plants throughout North America and is one of the USA's largest tile producers. With over 50 years of experience, they can be trusted for both residential and commercial tile roofing needs.
Boral Tile Roofing
Boral Tile Roofing from Boral USA is designed to withstand the elements and last the ages, all while dramatically improving the curb appeal of your home. With experienced manufacturing facilities across the nation, you can ensure products made to the industry's highest specifications.
Benefits of Boral Tile Roofing
Strong and durable
Energy efficient
Available in many colors and styles
Can emulate traditional materials
Hail and fire rated
Claymex Brick & Tile Inc. is a Texas-based clay tile roofing manufacturer in business since 1982. They are one of the largest clay product importers in the US.
Claymex Roofing Tiles
Claymex Tile Roofing is made from the latest technology to ensure durable, attractive tile roofing systems for businesses and homes alike. Choose from a wide variety of colors and styles to find the clay tile roof that's best for your property.
Benefits of Claymex Tile
100% natural clay
Environmentally friendly
Completely fireproof
Natural insulator
50 year warranty
Get started with a free roofing estimate
Are you interested in tile roofing? If you're replacing your existing tiles or installing a brand new roof, let us provide you with a free inspection and no-obligation consultation. To ensure the longest lasting protection, tiles should be installed by an experienced contractor like us. Dynamic Roofing General Contractor LLC is your local roofing specialist serving Mckinney, Dallas, Allen, Carrollton, Frisco, Mesquite, Irving and many nearby areas.