Request A Free, No Obligation Roof Inspection
Roofing Emergency #4: High Winds
High winds can also be problematic for roofs, causing shingles or other materials to become loose or even blow off entirely. It's important to have a professional check your roof after any major storm event to make sure the integrity of your roof is still intact. Wind damage to roofs can be incredibly serious.
Roofing Emergency #5: Ice Dams and Ice Buildup in Valleys
Ice dams, which are caused by heat escaping from the inside of your home, can form in your roof's valleys. These large mounds of ice can cause significant damage to the roof decking if they're not removed promptly. In addition, excess ice buildup in valleys can also be a cause of roofing emergencies.
Roofing Emergency #6: Improper Installation Practices
Finally, improper installation practices can lead to roofing emergencies. In some cases, contractors may not follow the manufacturer's instructions for proper installation or use low quality or damaged materials that aren't up to code. It's important to make sure the contractor you hire is qualified and experienced in roofing installation, as this can help prevent costly mistakes that could lead to roofing emergencies down the road.
Roofing Emergency #7: Flashing Failures at Roof Penetrations, Including Around Chimneys, Vent Stacks and Dormers
Leaks at roof penetrations such as around chimneys, vent stacks and dormers can be caused by flashing failures due to improper installation or damage. These are especially tricky because water can often find its way in through the tiniest of cracks, so it's important to have a professional inspect your roof regularly to ensure that all flashing is securely installed.
By taking the time to get familiar with these common roofing emergencies and having your roof inspected regularly, you can help prevent small problems from turning into bigger, costlier ones down the road. And if you do find yourself in a roofing emergency, take action right away and call a professional for help.
Some roofing emergencies are preventable, but others are simply out of the homeowner's control. Homeowners should always take care to have proper roof maintenance and practice preventative strategies like snow removal to prevent ice damming, but even in those cases a roofing emergency is a possibility.
Things to Remember in a Roofing Emergency
In the case of a roofing emergency, make sure you remember these three points:
Don't go up on the roof yourself. A damaged roof is a dangerous environment, and you should let a professional be the first to check it out.
Cover the interior. Using plastic sheeting will protect the interior of your home and help prevent leaks damaging items in your home.
Inspect the roof visually. From the ground, take a visual inspection of your roof to note debris and possible damage.
What Will Dynamic Roofing Do for Me During a Roofing Emergency?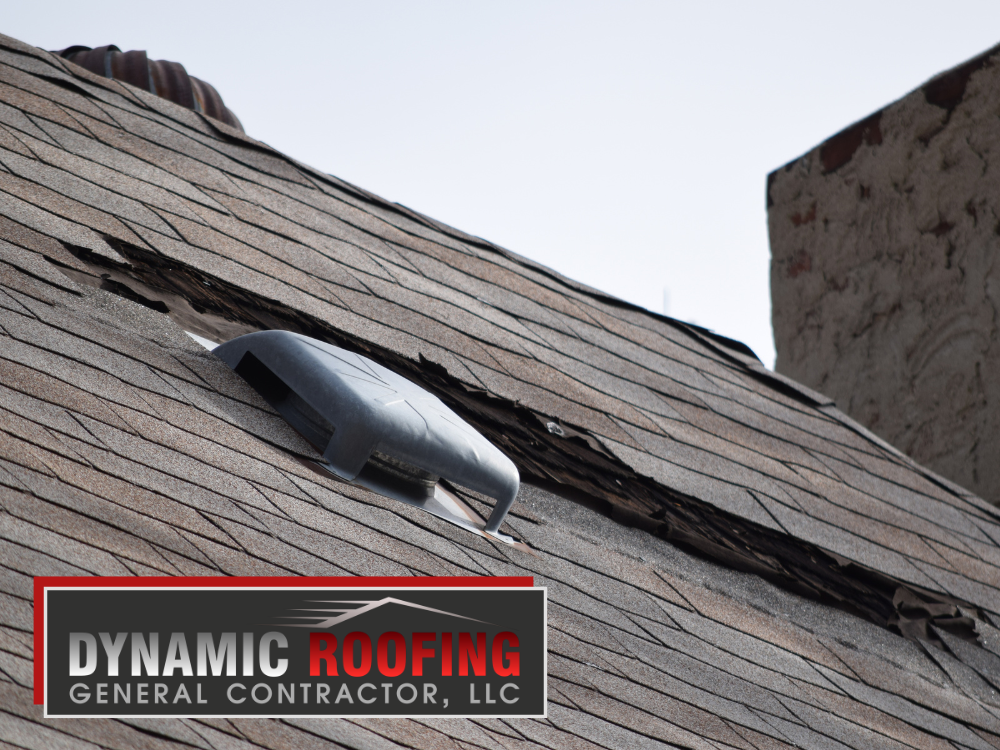 At Dynamic Roofing, we understand the urgency of a roofing emergency and strive to be there when you need us. We provide superior service in any weather condition and can always be counted on to take care of your needs. Our professionals are trained to handle all types of roofing emergencies, from fallen tree limbs to flashing failures, and will do their best to get the job done quickly and correctly. When you need help during a roofing emergency, call Dynamic Roofing right away.
We'll send an expert out to your home or business for an inspection. During the inspection, our team will detect the problem and provide you with a free estimate for its repair. We only use the highest quality materials available, so you can count on us to make sure your roofing emergency is taken care of properly. No matter what kind of roofing emergency you're facing, Dynamic Roofing is here to help. From wind and hail damage (and other types of storm damage) to leaks due to improper installation, we're here for you.
Do You Need Help With Emergency Roof Repairs?
You can trust that Dynamic Roofing's team of experienced professionals will do their best to provide you with an effective and efficient solution for your roofing emergency. Don't let a roof emergency throw your plans off track. Call our office now to get in touch with an expert who can help.
Request A Free, No Obligation Roof Inspection