GAF Master Elite Roofing Contractor
GAF Master Elite Roofing Contractor

GAF Master Elite Roofing Contractor
Choosing the right roofing contractor for your roofing needs is crucial. The roof is one of your biggest investments and it should be taken care of by experts and experienced professionals.
GAF Master Elite Certified roofing contractors are the best of the best in the roofing industry and when you hire them, you can be sure that your roof is in the right hands and that it will be installed, repaired or replaced by top industry specialists.
What makes this certificate unique and relevant for the roofing industry is the fact that only a small percentage of all roofer across the United States qualify for this prestigious GAF Master Elite certification. And Dynamic Roofing is one of them.
We are extremely proud to be among this minority of highly qualified GAF Master Elite Certified roofing contractors as only 2% of roofing contractors in North and East Texas have qualified for this title. With this distinguishing factor, we are able to provide our customers in Texas with peace of mind and superb quality.
What Is GAF Master Elite Certification?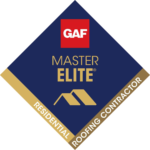 GAF Master Elite Certification is a certification program offered by the elite GAF factory, one of the largest roofing manufacturers in North America. It entails comprehensive and ongoing professional training for roofing contractors who need to satisfy a number of criteria in order to become certified.
This certification provides you with the highest quality assurances that your roof will be handled by distinct and reputable professionals, expertly and skillfully.
Who Can Qualify for a GAF Master Elite Certification?
There is a number of criteria the Dynamic Roofing had to satisfy in order to become a certified GAF Master Elite contractor. Like all other GAF certified roofers, we have shown that we are:
Properly and fully licensed for all roofing services
A highly reputable contractor with a proven reputation in our community
Adequately insured for your peace of mind and protection
Committed to continuous professional training to ensure top quality roof installation
Benefits from Hiring a GAF Master Elite Certified Contractor
Working with us, you and your roof will benefit greatly, no matter the type and scope of the roofing project that you need. You will get:
Superior protection for your home due to high-grade materials and products
Comprehensive warranties that put your mind at ease and protect your investment
Qualified and highly skilled roofing contractors who will expertly install any roofing system
Verified and vetted roofers that you can always rely on
Offer up to 25% workmanship backed by GAF
Work with HOA's and Multifamily Units 
Choose GAF Master Elite. Choose Dynamic Roofing.
We are your safest choice!
Request A Free, No Obligation Roof Inspection