Request A Free, No Obligation Roof Inspection
Removal of Fallen Trees and Branches from Buildings
After a strong windstorm, trees and branches can fall onto buildings, causing significant damage.
We'll promptly remove these obstructions, ensuring the structure is safe.
Removal of Fallen Trees and Branches to Restore Safe Access to Home
Safety is our top priority. We'll clear pathways, driveways, and entrances to ensure you can safely access your home without the risk of injury.
Cleanup of Broken Glass and Damaged Building Materials
Broken glass and damaged materials can be hazardous. Our team will thoroughly clean up and dispose of these materials, ensuring your property is free from potential harm.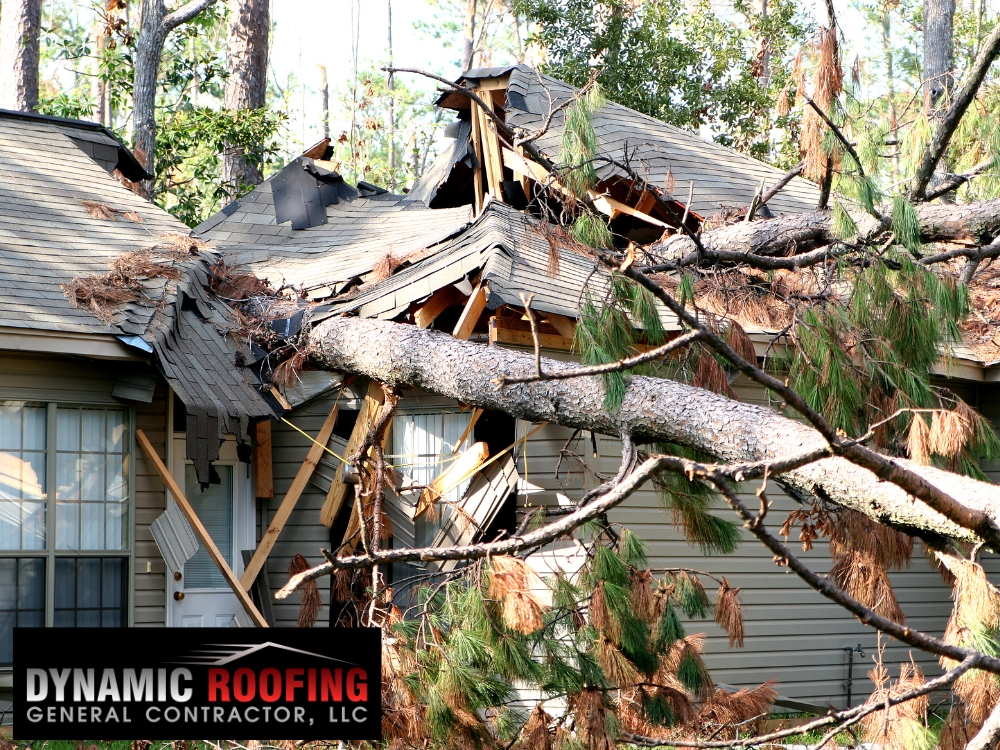 Emergency Tarp Installation to Minimize Water Intrusion
We understand the importance of preventing further damage. By installing emergency tarps, we'll ensure your home remains dry and protected from potential water damage.
Spot Repairs to Damaged Roof Shingles
Wind can rip off or damage roof shingles. Our team will quickly identify and repair these spots, ensuring your roof remains intact and functional.
Temporary Board-Up Repairs
To protect your property from further damage and potential intruders, we offer temporary board-up services. This ensures your home is secure while permanent repairs are underway.
Permanent Structural Repairs
Wind damage can compromise the structural integrity of a building. Our team will assess the damage and carry out necessary structural repairs, ensuring your home is as sturdy as ever.
Permanent Roofing and Siding Repairs
Our expertise isn't limited to temporary fixes. We offer permanent roofing and siding repairs, ensuring your home remains protected for years to come.
Do You Need Wind Damage Repair in Garland, Plano, Richardson or surrounding areas?
We're always here to help. Call our office or contact us online to talk to an expert who can help you get things back to normal and get a free estimate today.
Request A Free, No Obligation Roof Inspection
FAQ About Wind Damage Repair
Here are some frequently asked questions about wind damage repair. If you don't see the answers you're looking for here, please call our office. We're here to help.
How Long Does It Take to Repair Wind Damage?
The extent of the damage determines how long it'll take us to repair wind damage to your home and property. Minor repairs can be done within a day, while extensive damage might take several days to weeks.
Will My Insurance Cover the Costs?
Most homeowners insurance policies cover wind damage. However, it's essential to check with your insurance provider for specific coverage details. Often, it comes down to the details that are in your policy.
How Can I Prevent Future Wind Damage?
Regular maintenance, trimming overgrown trees and securing outdoor furniture can help prevent potential wind damage.
Do I Need to Leave My Home During Repairs?
Depending on the severity of the damage, you might need to vacate temporarily. We'll advise you on the best course of action after we survey the damage and figure out how much work it'll take to get your life back to normal.
At Dynamic Roofing, we pride ourselves on our commitment to quality, integrity, and customer satisfaction. We understand how challenging it can be to deal with wind damage, and we're here to help every step of the way. Trust us to restore your home to its former glory.